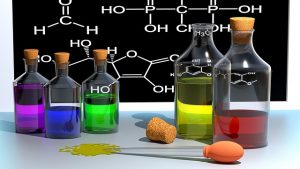 Chemistry powerpoint Free to download
Free powerpoint presentations on Chemistry.
These powerpoint presentations have been made by teachers and experts for different topics of Biology. Please feel free to download and use.
Using PowerPoint for teaching chemistry can be a valuable tool to present complex concepts, visualize molecular structures, and engage your students. Here are some tips on how to use PowerPoint effectively for teaching chemistry:
Organize your content: Start by organizing your content into logical sections or topics. Determine the key concepts and subtopics you want to cover in your presentation. This will help you create a structured and organized PowerPoint.

Utilize visuals: Chemistry often involves molecular structures, reactions, and chemical equations. Incorporate relevant visuals such as diagrams, molecular models, animations, or videos to make the concepts more understandable and engaging for students. Use software or online tools to create accurate representations of molecules.

Simplify complex ideas: Break down complex chemical concepts into simpler, more manageable parts. Use step-by-step explanations, visual aids, and analogies to help students grasp the core principles and understand the connections between different concepts. Relate abstract concepts to real-life examples whenever possible.

Highlight key terms and definitions: Chemistry has its own terminology and symbols. Define and highlight key terms, symbols, and equations in your presentation to ensure that students understand the vocabulary used in the field. You can use bullet points or text boxes to emphasize important terms.
Chemistry powerpoint presentations free to download
Other tips for using powerpoint for chemistry.
Use animations and transitions: PowerPoint offers animation and transition features that can be used to demonstrate chemical processes, such as reactions or molecular interactions. Use animations to show the movement of electrons, the formation of bonds, or the progress of a reaction.

Incorporate interactive elements: Include interactive elements such as quizzes, puzzles, or discussion questions within your presentation. This encourages active engagement and allows students to apply their knowledge or think critically about the material. You can also use clicker questions to gauge student understanding.

Provide clear explanations: Use clear and concise explanations to convey information. Break down complex chemical processes or concepts into simpler components and explain each step or component separately. Use bullet points, charts, or diagrams to support your explanations.

Include practice questions or activities: Dedicate slides to practice questions, problem-solving examples, or laboratory activities that allow students to apply their understanding of the concepts. This helps reinforce their learning and encourages active participation.

Use multimedia resources: Consider incorporating videos, simulations, or online resources that demonstrate chemical processes or provide interactive learning experiences. These resources can supplement your teaching and provide students with additional visual or hands-on learning opportunities.

Review and summarize: End your presentation with a summary slide that recaps the main points covered. Reinforce key concepts and encourage students to review the material on their own. Consider providing additional resources or references for further exploration.
Remember to adapt your presentation style to suit the needs of your students and adjust the pace of your presentation accordingly. Be prepared to answer questions and provide further clarification as needed. Encourage student participation and discussion to foster an interactive learning environment.